About
www.photo-tropism.com is the photoblog of Pierre-Arnaud Chouvy (launched on 7 May 2007).
www.photo-tropism.com est le photoblog de Pierre-Arnaud Chouvy (créé le 7 mai 2007).
Contact: Pierre-Arnaud Chouvy (admin@photo-tropism.com)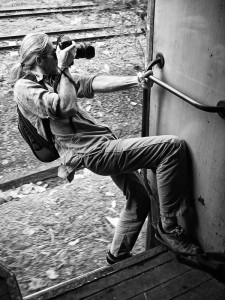 ---
Inspiring quotes
Si je savais prendre une bonne photographie, je le ferais chaque fois.
Robert Doisneau
The most interesting part of the natural world are the edges, places where ocean meets land, meadow meets forest, timberline touches the heigths. These geographical edges excite scientists in much the same way that edges of light fascinate me.
Galen Rowell, Mountain Light. In Search of the Dynamic Landscape, Sierra Club Books, San Franciso, 1986 (reed. 1995), p. 4.
Basically, I love photography – and travel. You could say I travel to take photographs and take photographs to travel.
Rick Sammon
My favourite thing is to go where I've never been.
Diane Arbus
Photography is a great excuse for seeing things you ordinary wouldn't.
Chirstopher Beirne
A mad, keen photographer needs to get out into the world and work and make mistakes.
Sam Abell
Finding the right subject is the hardest part.
Mary Ellen Mark
Stare. It is the way to educate your eye, and more. Stare, pry, listen, eavesdrop. Die knowing something. You are not here long.
Walker Evans
The hardest thing about being a photographer is, you have to take pictures.
Doug Bartlow
In the right light, at the right time, everything is extraordinary.
Aaron Rose
Equipment / Equipement :
Voir aussi / See also: Gear for the travelling photographer: http://photo-tropism.com/blog/about/writing/travel-paraphernalia/
Gear / Matériel:
Konica Minolta Dimage A2
Canon EOS 30D
Canon EOS 5D
Canon EOS 1D MK III
Canon EOS 1Ds MK III
EF 35mm f/1.4L USM
EF 50mm f/1.8 USM
EF 50mm f/1.2L USM
EF 135mm f/2L USM
EF 17-40mm f/4L USM
EF 24-105mm f/4L IS USM
EF 70-200mm f/4L USM
EF 70-200mm f/4L IS USM
EF 100mm f/2.8 Macro USM
Canon Speedlite 580 EX II
Canon Speedlite 430EX
Canon Speedlite Transmitter ST-E2
Fujifilm x100s
Fujifilm X100F
Fujifilm X-T2
Fujinon XF16mm F1.4 R
Fujinon XF23mm F1.4 R
Fujinon XF35mm F1.4 R
Fujinon XF56mm F1.2 R
Fujinon XF90mm F2 R LM WR
Samyang 8mm F2.8 Fisheye
Softwares / Logiciels:
Photoshop CC
Lightroom CC
DX Pro Optics V9
DXO Film Pack 3
Nik Collection
Portraiture
Ashley McNamara's Actions
VSCO Presets
Sensor cleaning / Entretien du capteur:
Visible Dust Hurricane Blower
Visible Dust Arctic Butterfly Sensor Brush
Photographic Solutions Sensor Swabs
Photographic Solutions Eclipse Liquid
Bags/ Sacs:
Kata T-214
Kata R-103
Kata R-106
F-Stop Satori
Lowepro ProTactic 450 AW
Goruck GR2 40L

---
Copyright:
Republication or reproduction of any image on this Web site is strictly prohibited without the written consent of the author. The usage fees are based on the usage requested.
Toute reproduction, diffusion ou adaptation, totale ou partielle, par quelque procédé que ce soit, d'une image de ce site Web, est interdite sans le consentement écrit de l'auteur. Tarif de cession de droits fonction de l'usage envisagé.
---